Williamson County Ag Expo Park
4215 Long Lane · Franklin, TN · 37064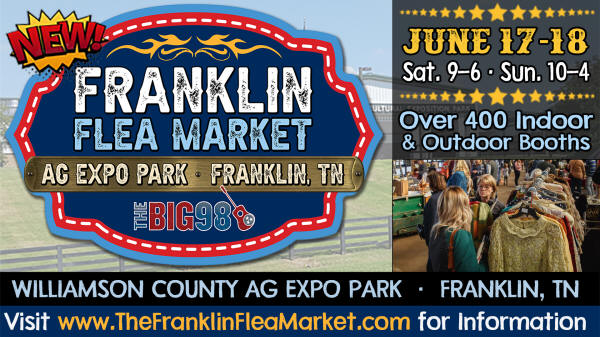 LOCATED JUST 20 MINUTES FROM
NASHVILLE & SECONDS OFF I-65!
The NEW Franklin Flea Market presented by The Big 98 will be held at the Williamson County Ag Expo Park, home of the Williamson County Fair in Franklin, Tennessee!
We expect our first show to be a huge hit with residents in the city of Franklin and the surrounding areas.

Featuring 400+ Vendor Booths, attendees will find acres of unique treasures & incredible bargains!
Keep Scrolling fore more information!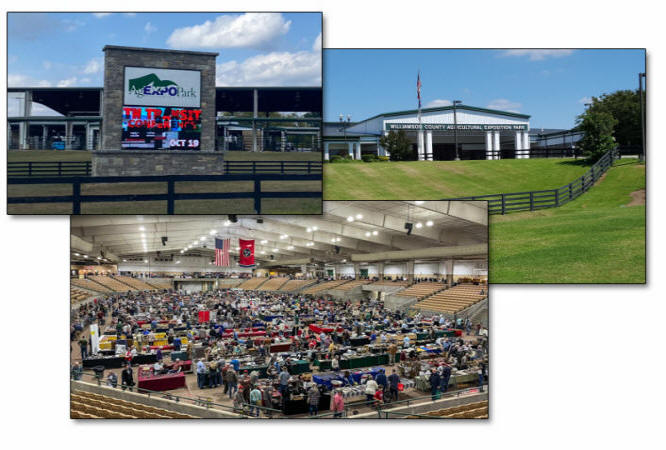 2023 Franklin Flea Market Dates

June 17-18, 2023
September 16-17, 2023
(September will be available to book after June event)


Admission · Parking · Show Hours

Admission FREE / Parking $5.00
Saturday 9am-6pm / Sunday 10am-4pm



Early Bird Shopping ~ Friday 11am-5pm ~ $10/person

VENDOR INFORMATION

Load-In Days/Times
Friday 9am-5pm (Cart-In Only)
Saturday 7am-9am (Cart-In Only)

Booth Sizes & Prices

Callicott Arena (Indoor Booths)
10'x 10 Booth: $120 (SOLD OUT)
Wait List: info@stewartpromotions.com

Concourse Level (Concrete):
Electricity Available ($40/show)
1 Overhead Door for Cart/Carry In (No Drive In)


Arena Floor - Lower Level (Carpeted):
No Electricity Available (See link below to re-chargeable generator)
2 Overhead Doors for Cart/Carry In (No Drive In)

CLICK HERE for a rechargable power station for vendors needing electricity in the Lower Level (Arena Floor)

Outdoor Booths: 10' x 10'
Covered Outdoor (Hard Packed Dirt): $75 (SOLD OUT)
Uncovered Outdoor: $60 (Available)

8 Foot Tables ~ $15 Each
Subject to Availability
Please add to "Special Requests" if booking online or Call Us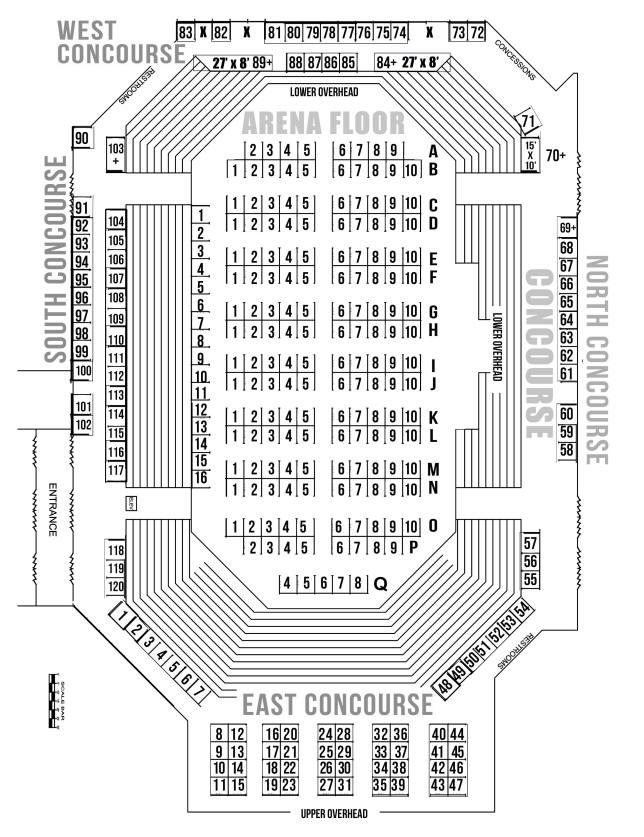 ---