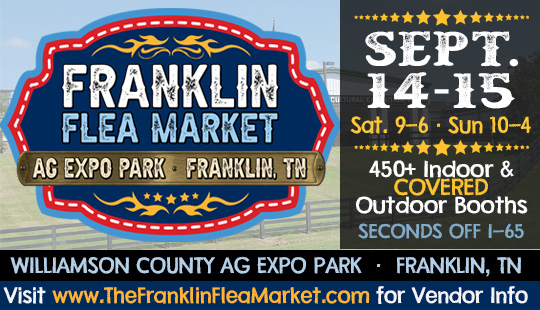 The Franklin Flea Market Spring Spectacular!
April 20-21, 2024
Saturday: 9am-6pm
Sunday: 10am-4pm

Williamson County Ag Expo Park
4215 Long Lane · Franklin, TN · 37064

Admission: FREE
Parking: $5.00 (Cash Only)


The Franklin Flea Market was held twice in 2023 and both events saw a fantastic turnout! We've added 4 events for 2024 and are excited to return in the Spring!

Featuring 500+ Indoor & Outdoor Vendor Booths, the Franklin Flea Market has 1000's of Unique Treasures & Incredible Bargains....something for everyone!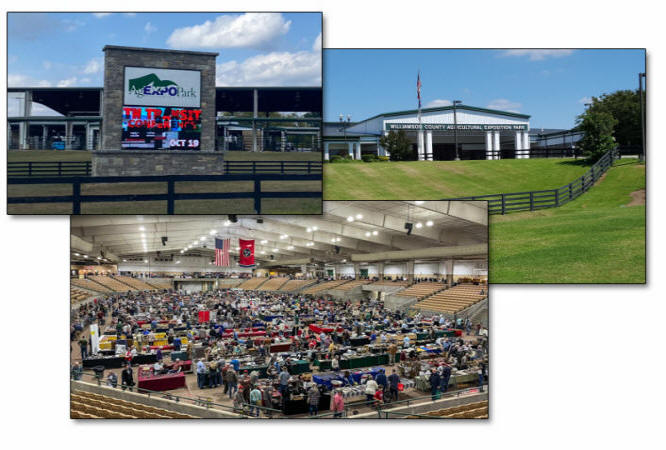 2024 Franklin Flea Market Dates
April 20-21, 2024
June 15-16, 2024
September 14-15, 2024
November 9-10, 2024

Load-In Days/Times
Friday 9am-5pm (Cart-In Only)
Saturday 7am-9am (Cart-In Only)
Check in at our Vendor Registration Tent
Outside the Main Arena


2024 Booth Sizes & Prices
Callicott Arena (Indoor Booths)
10'x 10 Booth: $125
Indoor Booths are VERY LIMITED
E-mail info@stewartpromotions.com to inquire
Concourse Level (Concrete):
Electricity Available ($40/show)
1 Overhead Door for Cart/Carry In (No Drive In)

Arena Floor - Lower Level (Carpeted):
No Electricity Available (See below to re-chargeable power station)
2 Overhead Doors for Cart/Carry In (No Drive In)
Covered Outdoor & Outdoor Booths
10' x 10' Covered Outdoor (Concrete Floor): $80
10' x 10' Uncovered Outdoor: $65
Covered Outdoor Booths are VERY LIMITED
E-mail info@stewartpromotions.com to inquire

*IMPORTANT! Any Tents MUST have
30-40 lbs of weight per leg
Click Here for an Affordable Sand Bag Option


8 Foot Tables ~ $15
Must be reserved in Advance
Please add to "Special Requests" if booking online or Call Us
Electricity (where available) ~ $40
Rechargeable Power Station for Electricity